My friends, I am an expert in toys, not only because I have a daughter of my own who teaches me lots, but also because toys are awesome and I love them. Don't judge me. My knowledge is helpful this time of year.
My Pal Scout & Violet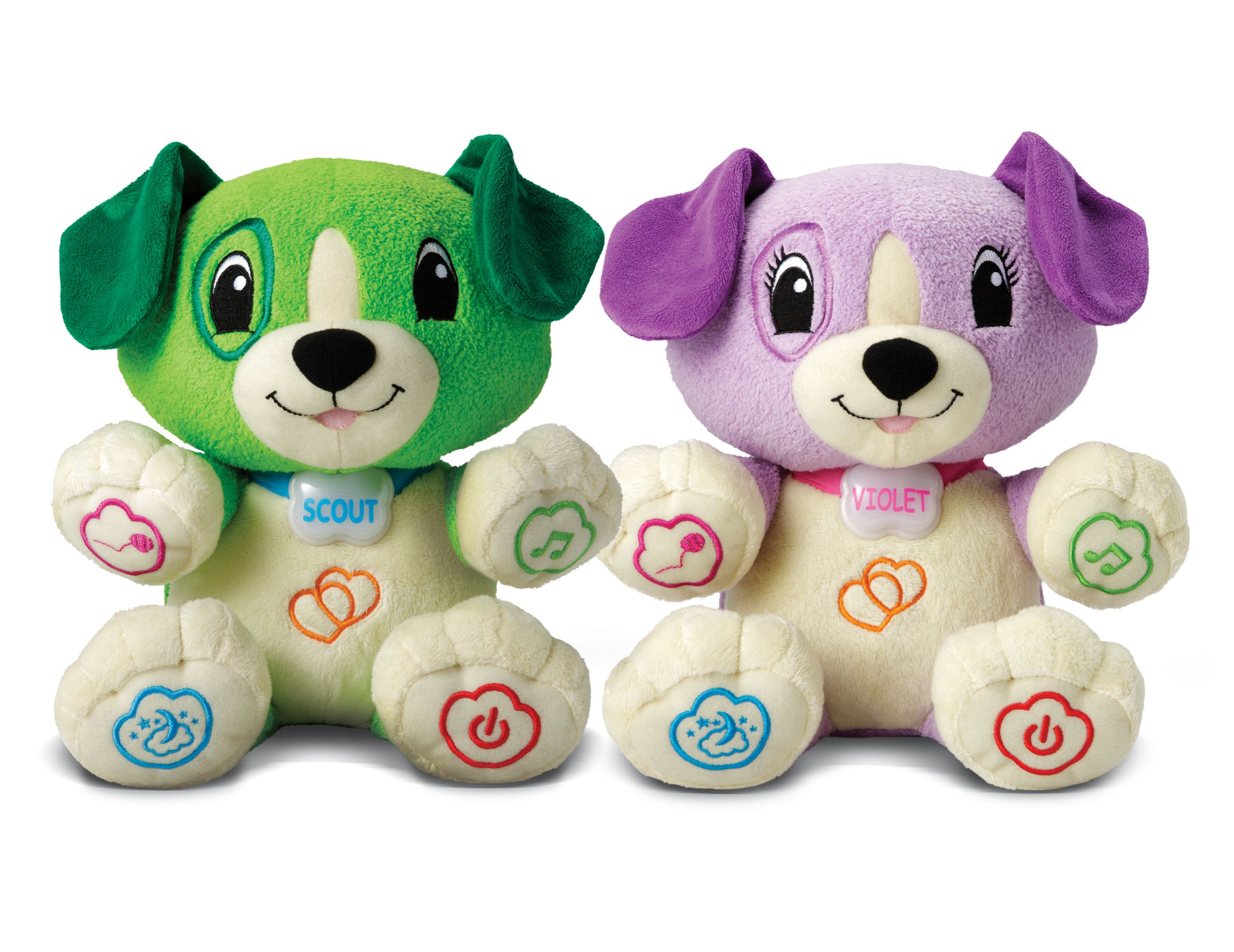 For a younger child, I absolutely love this puppy pal. My daughter has one from when she was younger, and for a good year straight it was one of her favorite things. Scout/Violet talks to your little one and sings fun songs, all depending on your input – these cute little pups can connect to your laptop via LeapFrog's downloadable software, wherein you can program the toy with your child's name, favorite food, favorite color, and your choice of a number of songs. Squeezing the pup's paws initiates interaction. My favorite paw was the blue one, which plays so many minutes of lullaby music depending on how many times you squeeze it. It's an excellent daytime and nighttime toy for any little one, and will only cost you about $25.
Melissa and Doug Handmade Wooden Toys
I didn't specify any one toy because there are tons, and it all depends on the age-range you're looking for, but Melissa and Doug's wooden toys are amazing. My daughter has a few of the puzzles (the number one shown above, and an alphabet one), and one of their "build-a-cake" toys, which is a three-layer wooden cake with Velcro decorations. All are very well made, colorful, and original. You can order directly from the Melissa and Doug website, but these toys can also be found in a number of stores; I've found many of the options in Winners, which incidentally seems to have some of the best prices.
Dress-Up Toys
Again, for this one I give you a broad range, not a specific toy. Kids love dress-up, and YES, that includes boys, this is something I know for sure. At the playgroup my daughter attends there is a large tote full of dress-up gear, and all of the kids love it. From the 1-year-old little girls to the 5-year-old boys, they all love playing with the fireman and police officer suits.
This gift is up to your own discretion; you can spend a little or a lot because there are tons of options. You can go to the toy aisles of your local stores and find lots of Disney Princess dresses and Ninja Turtles wearable shells, or you can go to the local Dollar Store for feather boas, princess crowns, superhero masks, and a multitude of plastic jewelry. Either way, I guarantee the child will have a blast. Dress-up and imaginative play is one of the best things about being a kid. Think back. You know it's true. 🙂
Do you have any great ideas for toy presents? Please share!
Stay tuned for Tracey's Gift-Giving Guide: Part 4 – MORE TOYS!